Samurai tattoos are quite a fad in Japan and within Asia, but it is known all throughout the world. When you see a Samurai, first thing that comes to people's mind is Japan, but what if you see a non-Japanese wearing one? What does the samurai tattoos mean?
Obviously, samurai tattoos started in Japan. A samurai is an elite Japanese warrior. They are the epitome of self-discipline, courage, honor, respect and loyalty. These are the reasons why most men and traditional tattoo artist prefer this tattoo design over others. They wanted to be reminded of the samurai's ways which is very strict and sacred to them. As a big fan of Japanese traditional art, I have collected 144 Unique Samurai Tattoos for you.
144 Unique Samurai Tattoo:
1. Full back samurai mask tattoo
Tattoo rich in Japanese culture.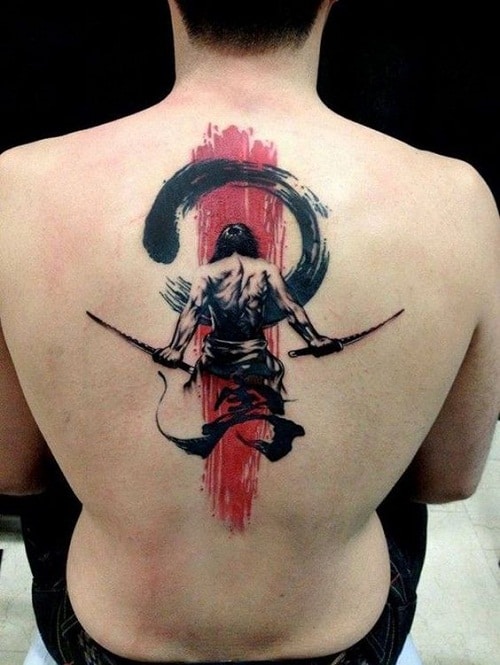 2. Samurai irezumi  done by Horimatsu
Irezumi – a Japanese term that means the insertion of ink in the skin. It is a traditional Japanese method of tattooing.
3. Thigh samurai tattoo with sun and Fuji mountain
For the love of Japan.
4. Samurai killing a snake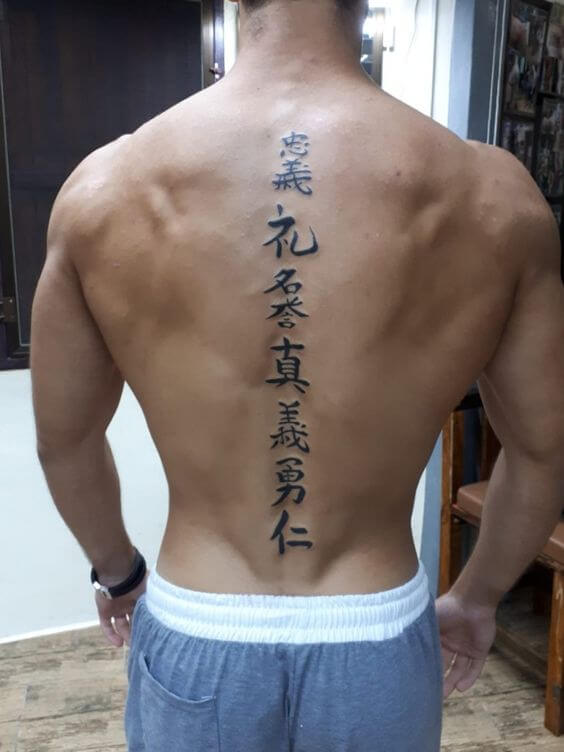 I  like the bright colors of the tattoo and the action going on on this full back tattoo.
5. Geisha kissing a samurai tattoo
The tattoo is like one of the old and traditional Japanese painting.
6. Giant Koi and Samurai Tattoo
This back piece is done by Japanese artist named Horihito who happens to be a master of Irezumi method.
7. Samurai tattoo on head
Here's one example of a unique samurai tattoo which is placed on the head of a man.
8. Red faced samurai
Samurai and cloud tattoo. I'm curious why the samurai's face is red, is he furious? LOL
9. Masked samurai, temple and sakura tattoos
This man certainly has a love of everything Japanese. If you take a closer look, there are 2 samurais on this man's back.
10. Kabuto leg tattoo
A kabuto is Japanese term for the head gear/helmet used by the samurais.
11. Samurai ghost tattoo
This  one is unique indeed, you don't see much of this style around.
12. Full sleeve samurai tattoo
You usually see samurai tattoos at the back, but it still looks stunning on full sleeves.
13. Realistic Samurai, Hannya and Buddha tattoos.
I love the smoke effect of the Hannya and Buddha, and the crack of the Hannya mask.
14. Samurai tattoo with a mask
The samurai's armor has very nice details and its shadow made the tattoo look like an old photograph.
15. Samurai with a fan
You usually see samurai tattoos handling a sword or killing something, this tattoo you see a samurai fanning himself like having his portrait sketched by a local.
16. Full back samurai tattoo with flowers
I never thought a flower tattoo could still make the man look manly enough.
17. Samurai with a flag and red sun
The tattoo looks nationalistic. Wish I could read the characters on the flag though.
18. Blue samurai mask tattoo
Such beautiful splashes of colors on this tattoo. It definitely popped out.
19. A group of samurais/warriors tattoo
This is not a traditional Japanese design.
20. Old fashioned samurai full back tattoo
It's interesting that samurais have different hairstyle on every tattoo.
21. Samurai tattoo defending a woman
Even non-Japanese love to get Japanese tattoos because of its beautiful art
22. Black and Grey tattoo of a samurai and dragon
Whatever color, Japanese samurai tattoo still looks stunning!
23. Samurai in the fall
I don't know what the fall leaves mean but, I love the samurai's expression and his hairstyle.
24. Full back samurai tattoo
Stunning full back tattoo. This is done using Tebori style. The Yakuza usually has this tattoo art all over their body.
25. Full leg samurai tattoo
I love this black and grey tattoo of a samurai.
26. Full back Samurai tattoo with amazing details
Everything here is very detailed. I love it when artists put so much details and importance to their work.
27. Samurai with clouds and waves tattoo
This is an unfinished samurai tattoo but looks already great with the additional wave and cloud effect. For interesting cloud tattoos, check out 35 Most Original Cloud Tattoos.
28. Samurai mask hand tattoo
Despite the small size, the detail of the mask is still good.
29. Samurai tattoo with armor.
The blue ink of this tattoo makes it look alive. The details are incredible despite its size, which is only half sleeve.
30. Simple vintage and traditional samurai tattoo design
This tattoo looks like you're looking at a pencil sketch.
31. Amazing half sleeve black and grey samurai tattoo
I love every detail of this black and grey tattoo and the smoke effect. It looks realistic.
32. A samurai tattoo done by Chris Phelps
Artist around the world  loves Japanese and oriental tattoos.
33. Samurai and hawk tattoo
One of kind samurai tattoo, you rarely see one sitting down with a skeleton face and hawk on the lap.
34. Samurai tattoo with a sphere
This tattoo displays an image of samurai representing strength and courage.
35. Samurai thigh tattoo
The armor has got some incredible details.
36. Yakuza with a traditional samurai tattoo
The hand gestures of this samurai is interesting.
37. Vintage photo of a Japanese wearing a samurai tattoo
Circa late 1800. I love old photographs. They capture so much character and mystery at the same time. A photo by Italian-British photojournalist Felix Beato.
38. Samurai with a painted face tattoo
This is how samurais look in old Japanese paintings.
39. Samurai tattoo with katana and geisha
A samurai tattoo with a geisha is quite common, because these 2 are Japan's favorite traditional tattoo designs.
40. Samurai tattoo on a horse and stepping on a dragon
Very nice details on these back piece tattoos.
41. Samurai killing a victim. Tattoo by Horitoshi-i
Even women get samurai tattoos. If I were born Japanese, I'd probably fill my body of Japan's rich and traditional art like this woman did.
42. A cover up tattoo turned into a modern samurai tattoo
I prefer the traditional samurai tattoos though.
43. Full back samurai biting a sword tattoo
I like samurai and geisha tattoos biting a sword or a dagger.
44. samurai with kabuto tattoo
Looks intense.
Both men and women in Japan can get a samurai tattoo. Although the modern tattoo machines are commonly used these days around the world, some Japanese still prefer the old fashioned Tebori style despite it is 5 times more painful than the machine. The tebori style uses a bamboo stick, stuck with lined needles. The tebori tattoo artist or master, won't stop until the job is done, this art is obviously not for the weak.
We have also collected 28 Best Geisha Tattoos that you might want to take a look at if you love Japanese art.
Get a
Limited Time Offer (click photo)
Design Quote: