Let's get something clear from the top. When we say 'sexiest thigh tattoos for girls,' we are NOT saying that these tattoos degrade women. Nah, bro.
We're talking about the sexiest, most empowering GIRL POWER (dust off your Girl Girls CDs) tattoos known to man AND woman. Hehe.
We're talking about tattoos that make you feel good, look good, and your sexiest self. Whether you're a girl looking for inspiration of sexy thigh tattoos, or you're trans, or you're a guy who just wants to be awed by the mighty beauty that is women, you've come to the right place.
Sit back and start scrolling for the sexiest thigh tattoos for girls that you ever did see.
And if you think you've got an original sexy girl tattoo that you think we should add, please contact us. We'd love to see it, too.
Today, we give you 101 Sexiest Thigh Tattoos for Girls to make heads turn:
1. Roses. compass and quote
I'm betting this person loves to travel. I also like her quote, "If you never get lost, then you never get found".
2. Maybe our Favorite!
I think the tattoo artist and whoever designed it did a terrific job. The spot is also perfect for such a design. It's simple, elegant, and is versatile with all sorts of clothing options.
3. Feminine thigh tattoos for girls
The flowers and pearls make me think this tattoo is feminine and at the same time, beautiful.
4. Guns and roses thigh tattoo
Here are 2 very different symbols but when put together can mean one thing. Guns symbolizes war and violence, roses on the other hand symbolizes beauty, life and love. Put together, it could mean that too much love could kill you.  Either that, or the person who got the tattoo is a big fan of the band Guns and Roses.
5. Ram's head sexiest thigh tattoos for girls
The skeleton head of the ram has different meanings. Usually depicted as a satanic symbol.
6. Colorful peacock thigh tattoo
I wish there were more feathers and colors on this tattoo.
I love the Elven quote there. I am a fan of JR Tolkien's Lord of the Rings and might get a tattoo of it one of these days.
8. Elephant head
I love elephants and I love the colors on this tattoo. The only thing I don't appreciate is the eyes of the elephant.
9. Feather sexiest thigh tattoos
Simple, yet sexy.
10. Dream catcher thigh tattoo
As always, dream catcher tattoos are beautiful.
11. Sugar
Sugar tattoos are very popular because of its meaning and beautiful design. You can have it in lots of colors, or keep it simple in black and grey and still get the same effect of its beauty. We also have Best Day of the Dead Tattoos article if you want to see more sugar skull tattoo designs. Tattoos for girls.
12. Unique heart tattoo
13. Octopus thigh tattoo
Doesn't the octopus tattoo look great in this black and white photo? The octopus is a very beautiful and interesting sea creature. Known for its flexibility, intelligence and its voraciousness.
14. Birds and flowers
15. Simple sexiest thigh tattoos
I think I am getting more convinced about getting a sugar skull tattoo.
16. Sea creatures tattoo
I think the sketch effect of these tattoos is lovely. Sea creatures are fascinating tattoos!
17.  Thigh tattoo
18. Flowery thigh tattoo
I admit I am not familiar with the different species of flowers, so I have no idea what kind this is but I like its style.
19. Indian pattern design
The Indian pattern designs are always attractive.
20. Thigh lace tattoo
21. Sexy Thigh Tattoo for Girls
Rugged style tattoos are always cool.
22. Sexy dragon thigh tattoo
The dragon is also one of the most popular tattoos around the world. For a woman who has a dragon tattoo on her thighs, how sexy can that be?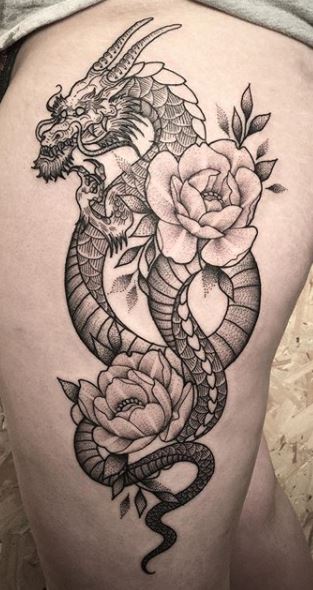 23. Mermaid thigh tattoo
The mermaids are one of the sexiest figures in the world.
24. Day of the dead thigh tattoo
25. Pin-up girl tattoo
Okay, I'm not sure if this is a thigh tattoo or a bicep tattoo, but pin-up tattoos are a good idea if you want a sexy tattoo.
26. Wedding garter with a gun
Fierce and sexy, is how I translate a gun and garter tattoo together.
27. Crow and flowers
In some cultures, the crow is thought of as a bad omen.
28. Stag thigh tattoo
Stag tattoos represents various elements. As an animal, the stag is a fertile and virile  animal, but the deer animal in general embody: intelligence, love, peace, kindness, nobility and rebirth.
29. Snake thigh tattoo
Historically speaking, snakes are a symbol of fertility, rebirth, and transformation. Any fertility symbol is sexy, don't you agree?
30. Wolf and Stag
I guess it's natural that humans take symbolisms from animals. It is believed that animals existed first before humans, and we learn a lot from them. Most of them also symbolize fertility which is sexy. So if someone says you are an animal in bed, well, that always means a good thing.
31. Compass tattoo
This one point Northeast, and somewhere else. 😉
32. Tribal and geometrical pattern tattoo
Patterned tattoos are also quite common in tribal and geometrical design.
33. flowers thigh
34. Wolf and Indian thigh tattoo
This person loves animals. Check out the cool full sleeve tattoos.
35. Owl tattoo
With just the outline, this tattoo is already stunning, how much more if it were filled with colors.
36. Lace garter tattoo
Laces are sexy things.
37. Animals thigh tattoos
38. Lighthouse and everything else
You can create a whole new world and a story on your body through tattoos.
39. Bird and flowers
40. Mandala tattoo
The Mandala is a spiritual and beautiful  Buddhism and Hinduism symbol representing the universe.
41. Blue eyed owl
I love things that are black and this owl tattoo is not an exemption.
42. Mandala thigh tattoo
I can't figure out what the other thing is. It looked like a snake or a dragon scale.
43. Framed tattoos
Frames add more character to the tattoos.
44. Patterned octopus
45. Rabbit and cat thigh tattoos
Originally posted by inkedideas I think this design is genius!
47. Wolf and cheetah headdress tattoo
48. Flowers tattoo
49. Hot air balloon
50.  Free birds and a cage
The water color effect is making this tattoo look more lovely.
51. Elephant tattoo with chief Indian headdress
The bravest, wisest and strongest person in the Indian tribe is the only one who wears the feathered headdress.
52. Anchor and octopus
This wonderful piece was done by Diana Severinenko. I like how it looks like being drawn by a pencil.
53. Native American Tattoo
I'm seeing that we get a lot of skulls and headdresses on these sexiest thigh tattoos.
54. Wolf/dream catcher and flowers
55. Portrait of a mermaid thigh tattoo
This tattoo is haunting. I love every bit of it.
56. A gold fish thigh tattoo
For those with flawless fair skin, this gold fish tattoo is a win!
57. Owl tattoo
58. Snake thigh tattoo
This would be better if the snake was with colors.
59. Elephant and bear tattoo
60. Beautiful thigh tattoos
61. Jellyfish tattoo
62. Oriental style tattoos
63. Clock tattoo
64. Cherry blossoms tattoo
65. Realistic flower tattoos
The tattoo artist did an awesome 3D effect.
66. Peacock tattoo
The peacock even in black still looks amazing!
67. Oriental style peacock tattoo
The colors are so lovely and divine! The peacock is a symbol of divinity, beauty and integrity. It's so beautiful, many people would consider having it on the thigh, which is a perfect spot for such design.
68. Lotus flowers and waves in gray
69. Ganesha thigh tattoo
Ganesha is a Hindu god of wisdom and beginnings.
70. Water color effect owl tattoo
71. Skull and horn tattoo
72. Half sun half moon tattoo
73. Monster snake thigh tattoo
This may look fierce, but some people consider fierce to be sexy.
74. Texas
For someone who loves Texas.
75. Bear and woman
Looks to me, these tattoo means the person loves the circus.
76. Disney thigh tattoos
Mickey mouse and fairytale lovers, we have more Disney tattoos for your tattoo inspiration.
77. Mermaid tattoo
78. Angel and Demon sexy thigh tattoos
79. Black and grey thigh tattoos
80. Nautical thigh tattoos
81. Flowers thigh tattoos
82. Pin-up girls sexiest thigh tattoos
The one at the right is similar to my tattoo.
83. Cherry blossom tree
84. Dragon sexiest thigh tattoo
Of all thigh tattoos in this article, this has to be my favorite. I am a big fan of oriental tattoos. I think they're sexy and cool.
85. Tribal tattoo
Tribal tattoos are also quite popular even if they are not authentic. If I were to have a tribal tattoo, I want to get it from a tribe tattooist.
86. Legs scale tattoo
I'm not sure if having scales is sexy, but as I've mentioned from the start, being sexy depends on the eye of the beholder. If not sexy, the scale tattoo definitely is interesting.
87. Black and grey dragon tattoo
Women can rock dragon tattoos very well. It makes them look empowered and tough.
88. King of hearts
The 3D effect of this king of hearts tattoo is terrific! Sexy tattoos.
89. Colored thigh tattoos
90. Dream catchers and flowers
I'm thinking this is an unfinished tattoo, but it already looks fantastic!
91. Nautical thigh tattoos
To the same but entirely different nautical tattoos on both legs.
92. Pin-up girl
Still missing colors but already beautiful nautical pin-up girl tattoos. These are mighty sexy tattoos.
93. Geisha thigh tattoo
Obviously this is a temporary tattoo of a geisha, but you can still use it as an inspiration whether you like temporary of permanent tattoos.
94. Tribal sexiest thigh tattoos
Tribal tattoos are beautiful especially the Polynesian style.
95.
A lot of people like skull tattoos, this one is quite unique. I would suggest to make your tattoo as unique as possible even though it's a common thing you see around, like this one.
96. Stag, bird and flower
97. Unique wolf tattoo
<3 <3 <3 That means this tattoo is all love!
98. Wold and feather head dress
99. Daria and Jane thigh tattoos
If you were a kid growing up in the 90, you sure know who Daria and Jane is. This was one of my favorite MTV series. I consider these tattoos sexy because it's a mixture of cool, smart and care free tattoo of these characters.
100. Zombie thigh tattoos
But these are pretty zombies, don't you think?
101. Moth tattoo
While some people get butterfly tattoos (especially women), don't think moth tattoos are rare. Moth tattoos symbolize faith, concealment, intuition, attraction, and many more.
And that's it for today. That was quite a long list, but at least you have a lot of inspiration to get from, especially if you can't decide which tattoo to have on your thighs. I also hope that my short history and opinions about some of these sexiest thigh tattoos would be able to help you in making that decision. If you're aiming for "sexy thigh tattoos" but are worried that some tattoos are too feminine or too masculine, don't worry about it because sexy doesn't mean anything like that. It's how you can rock it and be confident about it. Isn't confidence sexy too?
Get a
Limited Time Offer (click photo)
Design Quote: